that a large part of what makes Domino a "one-stop shop" is our high voltage dielectric test labs? With test labs in Alberta, Ontario, Puerto Rico, and Texas (with more opening soon) we offer our clients reliable testing for lineman's rubber gloves and other protective equipment.
We understand that dielectric testing of lineman's rubber gloves is a crucial step in ensuring the safety of electrical workers. These superheroes keep our power on through storms, the deep freeze of winter, and the blazing heat of summer. Whether in urban or rural areas, their commitment knows no bounds, and therefore we are committed to supporting them by providing vital safety testing.
With over three decades of experience in high-voltage protective gear testing, our certified technicians guarantee that every piece of equipment that enters our lab undergoes thorough cleaning and testing to ensure that only the highest quality equipment is approved for use. The process of dielectric testing involves applying a high voltage to a tank of water in which the gloves are mostly submerged and using an electrode within the glove to make sure there is no electricity registering on the inside of the glove. This is done to determine the integrity of the insulation and to check for any defects or damage that may have occurred. Once determined a "pass" by our certified Domino testing units*.  The gloves then go through a visual inflation inspection by our lab technicians, where the gloves are manually inspected by inflating the gloves under bright lights to catch any defects or air leaks.  Domino Highvoltage Labs trains our technicians and certifies them on the use of equipment needed to test the safety equipment including gloves and sleeves, hot sticks, temporary grounds and jumpers, blankets, coverups, voltage detectors and loadbreaking to name a few. 
* Domino proudly uses calibrated equipment from Hanco International, The Von Corporation, High Voltage Inc and Utility Solutions Inc to ensure the integrity of our test results and the safety of the linemen.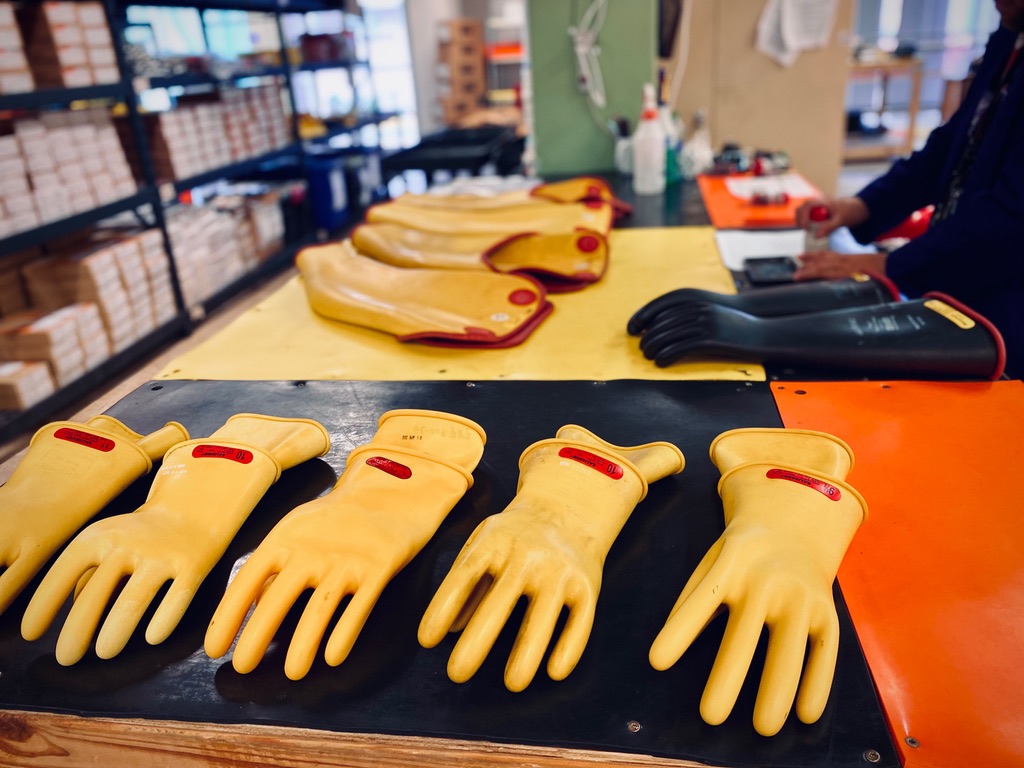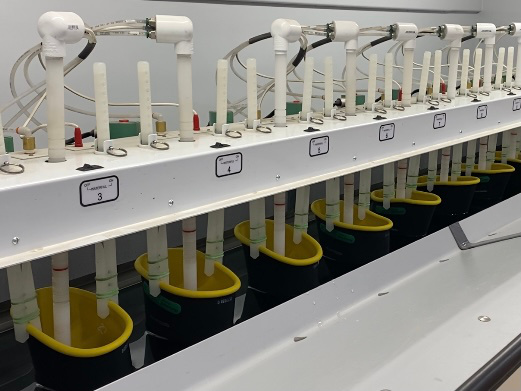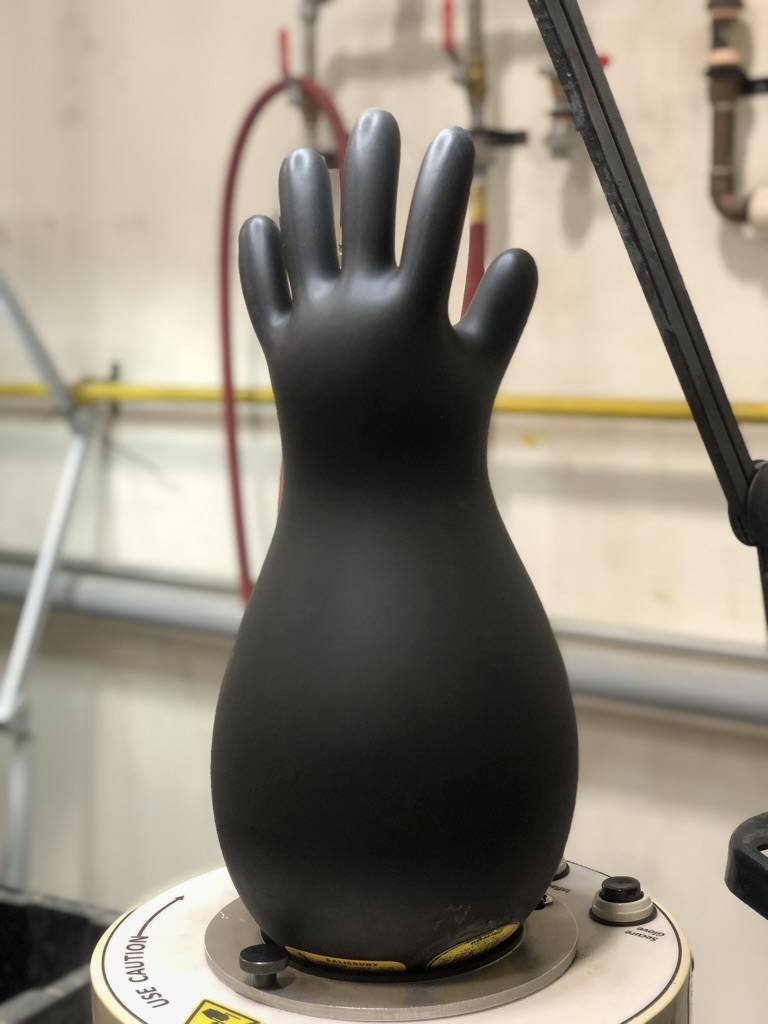 When Should I Test My Gloves?
According to the American National Standards Institute (ANSI) standard ASTM F496-20, dielectric testing of rubber lineman's gloves must be performed on a regular basis to ensure their continued safety and effectiveness. The standard recommends that gloves be tested at the following intervals:
The American National Standards Institute (ANSI) has established guidelines for dielectric testing of lineman's rubber gloves. These guidelines specify the voltage levels and leakage current limits that gloves must meet in order to be considered safe for use.
The importance of frequent testing cannot be ignored! The frequency of dielectric testing for rubber lineman's gloves may vary by province in Canada. The Ontario Occupational Health and Safety Act (OHSA) requires gloves to be tested every three months when in use, and every six months when not in use. However, other provinces may have different regulations or guidelines for dielectric testing.
If you have gloves that require testing contact our Domino team today for more information!